What is Blood Alcohol Content?
Blood Alcohol Content (BAC) is also called blood alcohol concentration and is the measurement of alcohol in the blood. It is expressed in mass/mass (mg/g or g/kg) or mass/volume(g/L or g/100 mL) units. The difference in units is extremely important for an accurate measure of alcohol in the bloodstream. Serum and plasma BAC concentrations are much different than whole blood.
What are Serum or Plasma Alcohol Concentrations?
Serum or plasma blood alcohol concentrations are the result of hospital clinical laboratory testing blood. This testing is done for health treatment purposes at the hospital. These results are not correct for the measurement of alcohol in a driver's blood under the driving laws. Plasma contains around 92% water and will have a higher concentration of ethanol than whole blood by around 15%. Tests have shown that after drinking alcohol, ethanol blood alcohol in plasma was always higher than whole blood concentrations. Plasma testing has the same results as serum in terms of alcohol concentration.
What is the Blood Alcohol Level Legal Limit?
The United States blood alcohol legal limit for adults who are 21 years old or older is .08 in every state except Utah. Utah lowered the legal limit to .05 beginning December 31, 2018. A vocal critic of the new law is the American Beverage Institute. The claim that "Nearly 70 percent of alcohol-related fatalities in this country are caused by someone with a BAC of 0.15 and above."
A California legislator in Los Angeles is also talking about introducing a .05 BAC bill this 2019 session as well.
Will this really save lives if it is the drivers with higher blood alcohol content that create the danger?
What are Blood Alcohol Level Effects?
BAC is many times measured as a percentage of the volume of alcohol in blood per units of blood(grams per 100mL). The range will be from .01 to possibly up to .5 or more, which could result in death.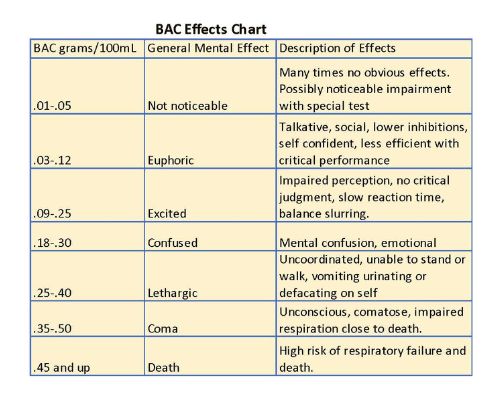 Lethal Blood Alcohol Level
Studies from The National Institute of Health have shown that long-timee drinkers have a higher tolerance for alcohol and can have a higher BAC without dying. Someone with a low tolerance faces a higher risk of death at a level of .355, the mean level in 175 post mortem intoxication death cases.
Alcohol poisoning seems to be a discussion that occurs when there are concerns for college kids drinking large amounts of alcohol in a short amount of time. Sometimes it is a student's death that causes the discussion to take place.
Overindulging with alcohol consumption in a short amount of time can result in obvious health dangers. Some problems that can put a person at risk of death include choking, stopping breathing, severe dehydration, seizures, hypothermia, irregular heartbeat, brain damage, and of course death by one of the listed causes.
Blood Alcohol Content Calculator
Everyone's a little different when it comes to the effects of alcohol on the body. A blood alcohol calculator will just be guessing and will not be accurate. It is better to use a portable breathalyzer